If you are not familiar with these terms "do-follow", "no-follow" and "back links", I recommend you to go do a research right away! Because these are very essential knowledge that any bloggers and internet marketers need to know. They are concepts widely used in search engine optimization (SEO) techniques in order to make a website on top Google ranking. More importantly, leaving comments at websites/blogs in your same niche is a great way to build relationship with other bloggers and develop your personal brand.
After the jump, I will show you easy techniques to find blogs that have do-follow links and CommentLuv to keep commenting, buid back links and gain traffic for your blog.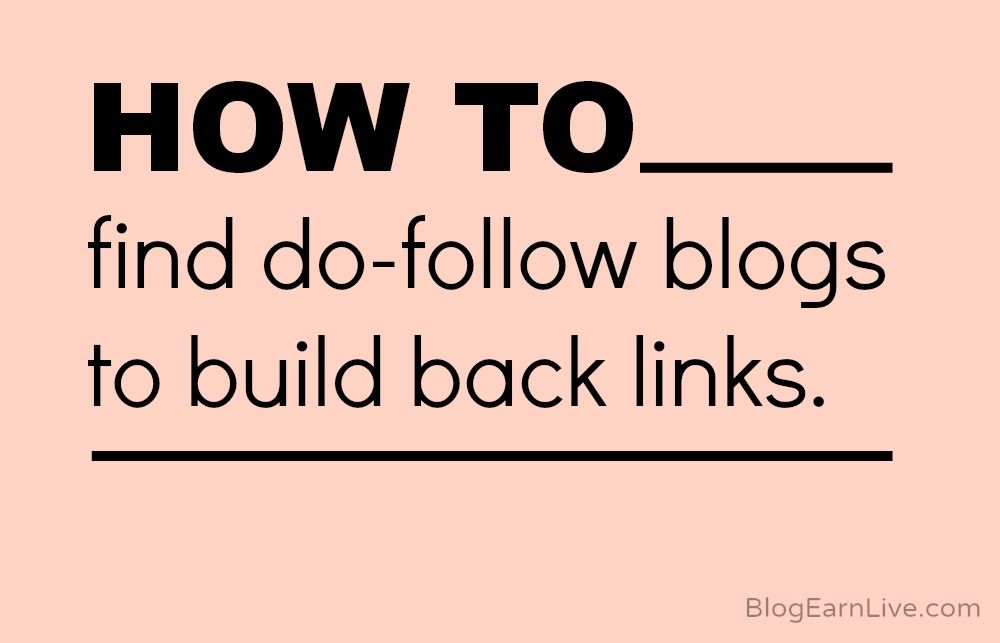 Does manually building backlinks still work?
People nowadays use tricks and tools to build backlinks. I have nothing against that. I actually wish I could have good finance to afford all of those tools and services. But the good news is, Google prefers manually back link building without any support from automated software. You know, natural is always the best! On top of that, to build a personal brand online is to present your image, your words, your thoughts. They all need to come from a human being, not from a software or a tool. So, be real! I always recommend people to manually leave thoughtful and good content comment at other blogs in order to gain traffic and build a good brand for yourself.
What is CommentLuv?
CommentLuv is a WordPress plugin that allows your readers have a chance to promote their latest post by showing it right below their comments. It can be adjusted to be do-follow or no-follow depending on the blog owners. When others comment on that blog, they will see the link to your latest post. If your post title is attractive enough, they will click on it and go to your blog. That is how you blog gains traffic. For now I use this plugin for my blog as a way to thank my lovely readers and commentators. Blogging is also about helping each other for mutual benefits. So why not?
What is KeywordLuv?
A lot of blogs use KeywordLuv to reward their commentators and encourage the interaction between the blog and readers. Basically it allows commentator choose keyword for the anchor link via this formula Your name @ Your Keyword. You can search a bit more to see how powerful this tactic is to increase your blog position. For now I haven't used KeywordLuv yet but in near future when my blog reach a certain qualified level, I would like to install this plugin to help out other blogger with building good quality backlinks.
How to build high quality backlinks with 2 easy steps for FREE
Step 1:

Search blogs that have CommentLuv & KeywordLuv

DropMyLink: let you search not only blogs with upper plugins but also .edu blogs and many other options

KeywrdLuv Search Engine:  simply type the keyword you would like to search

CommentLuv Global Search Engine: you gotta be subscriber to use this. So just register by putting your email over there.

By using upper websites, you already have in hand a long list of blogs which have CommentLuv & KeywordLuv. The great thing is they are completely free. However we aren't ready yet. Because we don't know if links from those blogs are do-follow or no-follow. So now letäs move to second step to define if they are do-follow or not.
Step 2

: Check do-follows

I use SEO for Chrome extension which is completely free and so quick. After installing the extension you can use to check any website instantly, not only do-follow or no-follow but also Google Pagerank, Alexa and all other info needed for SEO.

Click on the icon on the tab, it shows a list of different entities. Look at the left corner down below, there is an option where you can choose to "show Nofollow". Tick on that option. Look at following picture for more clarification.
Then go to a website you find by using step one, now you can see if there is any no-follow links, there will be a red frame around the link as shown in the picture below. This is the picture taken from my own blog. Most of links on my blog are do-follow but here the share buttons are no-follow and there are red dot line framing around the links.
With these two easy steps, you can quickly find a huge range of blogs which are highly qualified for you to build backlinks
NOTE!!! However, never overuse any technique in SEO. Besides building links with do-follow, it is also recommended to backlinks at no-follow blogs too. Why? Because it looks natural without much "footage of SEO" under Google's eyes. So use these tools wisely because the choice is in your hand.
Good luck!
Cheers,
Anh